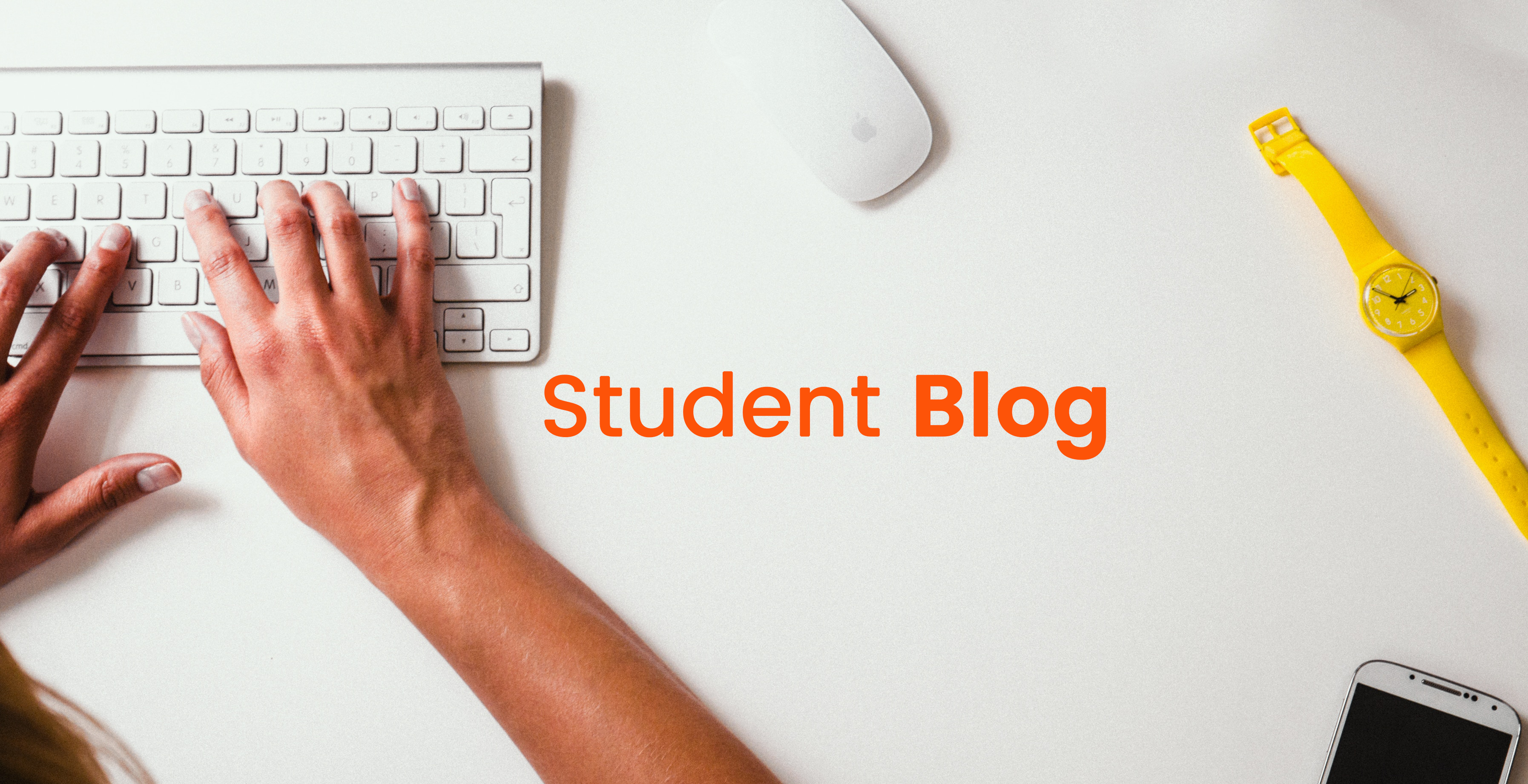 ---
Blog Entries
It is 8 p.m. in the mountain village of San Miguel, Guatemala. Voices and laughter can be heard echoing through the darkness. A compact, student-designed, solar powered lantern creates a pool of light in a small courtyard where children are gathered for play. When asked about the light, Maria, a young mother said, "My home is a place the neighborhood children come to play after dark because it is safe in the light." 1 million people in Guatemala don't have electricity according to the International Energy Agency.  Imagine if you could help students in Guatemala provide solar powered lights that help their neighbors like Maria!
ENGINEERING BRIGHTNESS GUATEMALA 18 initiative empowers students in Guatemala to design and produce lights for those in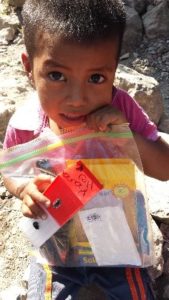 their communities without safe, reliable light after dark. Engineering Brightness was founded by Tracey Winey, Ian Fogarty and John Howe, all public school teachers committed to helping students connect their learning with action that makes the world better.
This short term project, aims to raise money for tools (soldering stations, wire tools, safety equipment) and parts for 100 lights which will be left with teams of students at two schools in the western highlands of Guatemala. Two-day workshops led by Engineering Brightness will assist the schools in kick starting their light-building teams.
Secondary students in Guatemala will use these sets of tools to design and build lights for those in their communities who depend on candles, lanterns or cooking fires for light after dark. Engineering Brightness is partnering with these schools providing supplies, designs and ongoing partnerships.
We believe that students worldwide in partnership with their communities can have a real and lasting influence on the problem of light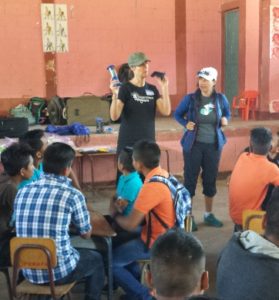 poverty. We take it for granted that when we turn on a switch, there will be light for us to read, visit, drive and work by. This is not the case for 17% of the world's population.
You can empower students in Guatemala to impact light poverty by partnering with us! Engineering Brightness is all-volunteer.  Tax-deductible donations of any amount can be made through GuateStar, a U.S. 501c3 registered in Colorado. Our goal is for $2200 for tools and supplies and a stretch goal of an additional $2800 for two 3D printers for the schools. Designate your tax-deductible contribution "ENGINEERING BRIGHTNESS GUATEMALA 18"
We are grateful for our partnership with GuateStar and Top of the Lake Coffee on this project.
–Engineering Brightness Team
---
"Engineering Brightness is an amazing club that utilizes student talents to help solve a world problem: light poverty. The fact that middle schoolers are doing something as big as this to impact the world makes me want to help out more than the hour after school we have once a week, and all the build days we've had over the course of this summer have made me very excited, especially since we get to spread the word about what we do at these events. Seeing everyone in the community, not just students and teachers, work toward one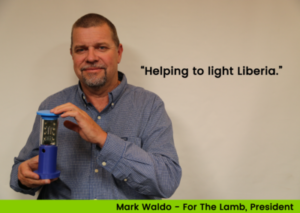 goal for a few hours really makes me happy, because it shows me that even though not all these people exactly know how to solder or engineer, they still want to contribute to the cause and learn more. Having a connection to Liberia through Mr. Waldo is amazing, especially since he comes up with great ways to try and make us more productive in what we do. It is also really encouraging that we have all this support from teachers like Mrs. Winey and Mr. Howe, and also from our community, such as parents and friends.
A year ago, we had a build day at Preston, and SMART electrical engineers came to talk to us about some possible improvements to our lantern design. We received a lot of good feedback and things to consider, and some of those components are in our lantern design 2.0, such as lights on both sides of the circuit board. We also had a Skype conference with the engineers later in the year, and we reviewed what we discussed on the build day, and what components we should change on our circuit board so that they could design a prototype. The prototype was shown to us a few days ago, and the engineers made it to order perfectly.
I am super thankful that I joined Engineering Brightness, because I have been able to collaborate with people around the world, gain a new perspective of the world, and discover new passions I never knew about. Who knew that I would like soldering so much? My family loves that I have these kinds of opportunities they never did, and are excited that I am learning so many new things that I love."
-Kylie, Student
---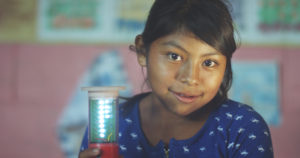 "I'm excited about engineering brightness because it's going be fun meeting new people and working with old friends. I also want to help people around the world, and I want to make the world a better place. I love to see smiles on kids faces and I love to build and create with people I know and don't know. I also really want to learn to solder and create motherboards. I'm really excited to inspire kindergartners, 1st graders, 2nd graders any grade above that!"
-Noah, Student
---
Why I invited my grandparents/parents/relatives to come to EB:
Two meetings ago, I brought my grandparents and my great aunt to Engineering Brightness. I decided to take them because I really like what we're doing here. I thought my grandparents and my great aunt would enjoy seeing what I participate in at school and seeing the impact we're making on the world. I also wanted them to see me soldering, as I thought they would find it interesting. I didn't bring them to any other school oriented activities, mostly because they weren't invited to any other activities. The other activities I participate in revolve mostly around Preston students, whereas EB includes the entire community. When Ms. Winey heard my grandparents were coming to town, she immediately invited them to EB. ~CM 6th grader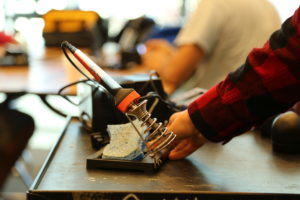 I brought my grandparents to Engineering Brightness because I knew it would be a fun thing to show them, and also I know I talk about it a lot, and I wanted to make sure they knew what it was really all about. I wouldn't bring them to a normal class like math or English because it isn't as hands-on, and in Engineering Brightness you learn things in a different way than you would in a classroom. All in all, Engineering Brightness is a very welcoming club. ~KP 7th grader
I brought my grandparents to Engineering Brightness because I talk about it all the time and they wanted to see me in action.  I produce the YouTube channel so they have seen my videos but I wanted them to see it live.  I am proud of the work we are doing and wanted my grandparents to see the difference I am making in the world.  I didn't bring them to any other part of the day because they weren't invited and it wouldn't be as meaningful.
-RM 8th grader
---
Why I came to Engineering Brightness: Four grandparent views
–Grandparent 1

For me personally, I was in awe of the enthusiasm displayed by each & every Preston Middle School student partaking in the "Engineering Brightness" after-school Science program. To see the students break out into different groups, eagerly learning the design, engineering and technical skills in building a 3D printed LED lantern was very inspirational. I witnessed firsthand the drive, the motivation and the commitment this class exhibited in wanting to make a difference in those developing nations living without electricity.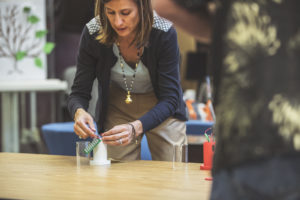 I wish Ms. Winey, her teaching staff and students much success in their collaborative efforts towards reaching their goal of 50 3D printed LED lanterns for transportation to designated developing nations by mid-December. Preston Middle School in Fort Collins, CO, has definitely made its mark on the map with its distribution of lanterns to orphanages, schools and homes in low income nations that are in dire need of electricity.
I hold Ms. Winey and her dedicated group of "Engineering Brightness" participants in very high regard.
–Grandparent 2
We were very impressed with two things:
1) The number of middle school children volunteering their time to help out children and families less fortunate than themselves.
2) The dedication of the teachers who are so willing to give up his Christmas vacation time to fly these lanterns into Guatemala.
We thank your kind teacher, Ms. Winey, for inviting us to come into Preston and observe Engineering Brightness.
–Grandparent 3
We thought the club was really inspiring and they loved that the students are learning new things while helping change the world. We also wish we had an opportunity like this one while we were in school.
–Grandparent 4
Giving back, and helping those that are less fortunate is high on my list. Very proud of you (grandson) and the school for your caring attitude and your desire to help others. It's good to see the students and instructors working as a team and giving of themselves to make the world a better place.
---
Engineering Brightness' build day was an amazing experience. I thought it was wonderful that as we made the lights, we were also told what kind of influence we were making and who we were helping. Furthermore, the stories of people that the lights directly affected made the experience even more valuable, and everyone knew that the work they were doing was making an impact.
I had never soldered before or done any wiring. The extent of my wire knowledge was using wire clippers and holders when I was younger to make jewelry. Despite coming into the build day with no knowledge of how to do anything to help, I had such a great time. The two students at my table, Grayden and Abby, helped teach me how to solder, and they were so good at it! Seeing them take charge like that was so cool, and as a future teacher, I was impressed by their love for what they are doing. I also found that finishing a board was a great feeling. Actually seeing the board light up and knowing that something I helped make will provide light to someone in need was more impactful than a lot of things that I have done. It was clear that the students felt the same way, and I enjoyed hearing them vocalize this.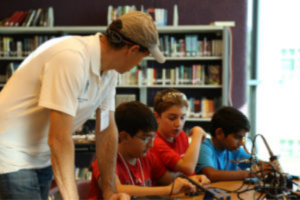 Furthermore, I could see how this build day brought the community together. Seeing parents and their children working towards the same goal (and in most cases, the kids teaching the parents what to do) was really fun, and I think that everyone benefited from the group work. The parents had an opportunity to see what their kids are doing after school, and they saw how meaningful and important this work is. As Abby was telling me, she was so proud of the lamp that she made with her dad last time, so I think the students love that their parents are getting involved in something they care about.
I also loved learning about the families in Guatemala that the lights are being brought to as well as the students' interpretation of why the work they have done is important. They clearly are able to make global connections and feel empathy for the world outside of Fort Collins, and I think that is a beautiful thing. What better way to teach students to be empathetic than to give them a real-world problem people face and have them fix it? I could see that they took pride in the work that they did and the improvements that they made to these lanterns. Having the students play such a central role is really what creates the most impact.
Seeing this program extend to other schools was great. I enjoyed watching the German teacher interact with students through the tablet, and I think it's wonderful that another school drove all the way to try and it out and maybe apply it to their own school. Building these connections not only makes the project more impactful, but it also shows the students the type of collaboration that can occur when people care about an issue. This collaboration offers potential for making more improvements on the lights, and every creative mind that is added to the mix offers a new perspective. With these tools, there is no doubt that design and functionality will only improve.
-Colorado State University Student
---
Why Engineering Brightness? What Students Are Saying…
---